About Us
We, Rathore & Company, are a talented manufacturing concern with ISO 9001:2015 certification. Dealing in best grade Food Processing Machines, our company has created a positive image of our enterprise. We help many domestic & foreign industries with our machines and contribute massively to Indian economy. Our aim is to become a company that not just benefits clients across the globe but also the development of country. Incorporating quality research, vast knowledge and work experience together, we create a fine assortment of Flour Mill Machine, Vibro Separator, Semi-Automatic Drum Sieves, Semi-Automatic Roller Mill Machines, Mild Steel Gravity Separators, Dal Mill Machines, etc., at all times. The range is engineered using best grade materials, parts and components.
Under the leadership of Mr. Jeevraj Singh Rathore, we make sure that each production activity is carried out in compliance with the industrial guidelines. He is a great leader who has been working in the food processing industry since 1975. With his vast experience and understanding of the domain, he has taken our 1994 incorporated company to great heights of success in the market. With this support, we also provide turnkey solutions in the segment of flour milling.
Today, we are celebrated as a reliable manufacturer and exporter, who not just offers a well engineered range but also many portable customer services. Being a customer-oriented firm, we also work as a consultant to guide our clients. Our company helps many in buying right products for themselves. Our goods are provided in the foreign countries through Third Party Exporters.
Our Team
Like a strong spine, a skilled team of experts is supporting our business structure since our incorporation. We are grateful for the punctual, professional and quality work that our clients do. They are the prime reason to our massive popularity worldwide. We can not imagine growing at our current rate in the market without their support. We plan to recruit more talented individuals to our company and improve our work capabilities even more in the future. Our company is currently booming because of the support of adroit:
Engineers
Designers
Technicians
Sales & Marketing Experts
Administrative Staff
Supervisors & Quality Analysts, etc.
Shipping and Delivery
For past 26 years, we have been shipping and delivering our quality array of Dal Mill Machines, Semi-Automatic Drum Sieves, etc. to clients in a prompt manner. Focusing on our punctuality, we exceed the expectations of a global clientele faster than any other competitor.
Payment Methods
Choosing the right product is important but choosing the right payment mode is also important. One shall always deal with companies which offer them with a convenient, comfortable and secure payment method. Our company gives many options to clients, we accept clients payments via Visa & Master cards. Further, we accept clients payments via other easy modes as well.
Our prestigious company proudly renders reliable customer as well as technical consulting services to clients. We give expert advice to clients and help them in choosing the products that fit their needs the best, from our vast portfolio. Further, our enterprise provides pre project as well as feasibility reports to clients along with assuring proper installation & erection of plants. We give training to local staff and render varied mechanical maintenance services. Our business organization renders erection, consultancy & commissioning services to the below mentioned agro based application areas:
Whole Wheat Flour Mills
Roller Flour Mills
Maize Flour Mills
Daliya Plants
Rice Mills
Pulses Grading, Cleaning & Milling Plants
Dust Control System Industries
Pneumatic Conveying & Exhaust System Sector, etc.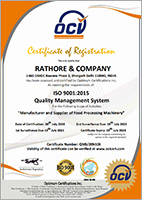 Read More